When possible, I prefer to read original source documents for my research, rather than summarizing secondary or tertiary sources. Consequently, I read the entire 880-page Senate amendments to the CARES Act1 yesterday and today.
I made summary bullet points as I read. Accidentally, this became a 7-page condensed version with 175 succinct points, a line-by-line accounting of where the money is allocated,2 not just the 4 or 5 main points you'll read in the news.
I thought I'd share in case others are interested in exactly where we are spending $2.2 trillion. If you find this interesting, or helpful, or if you have thoughts, please leave a comment. Reader comments are the best part of my blog.3
---
UPDATE INSERT (March 28, 2020) – Based on the responses to the original post, I combed through the final signed CARES Act and put all the funding provisions into Excel, 234 entries. This allows us to sort by amount and, frankly, check the math to ensure it sums to $2.2 trillion, just for fun.
It doesn't.
I show the sum as $1.972 trillion.
Although I was painstakingly methodical, perhaps I missed a key point… but did I miss $227 billion ($227,760,996,198)? That would have been the 4th largest value in the entire document.
Here are the funding provisions in order from largest to smallest for everything $10 billion or more (the total includes all 234 items).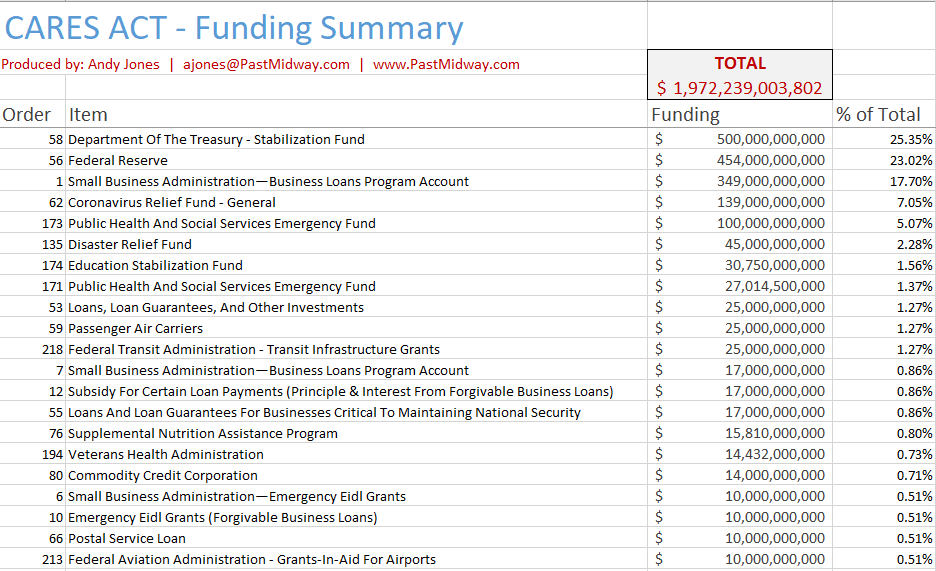 ---
My summary (below) contains no personal editorial, although I do have some opinions on the matter, as will you, if you read through all the provisions for funding. Most notable, and I have been asked this, so I will just say it upfront…
Yes, the House of Representatives did in fact allocate $25 million for themselves for "Salaries and Expenses". Buried on page 781. That said, it's no more than the $25 million allocated to the JFK Center for the Performing Arts and only a third of the $75 million allocated to the National Endowment for the Humanities.
Meanwhile, the Senate slipped in $10 million for themselves. The main difference from the House is not the amount, it's the clever title: "Contingent Expenses of the Senate – Sergeant at Arms and Doorkeeper of the Senate… and Miscellaneous Items". That's considerably more palatable than "Salaries" and has therefore seemed to escape notice.
The Act is structured in two main divisions:
DIVISION A – KEEPING WORKERS PAID AND EMPLOYED, HEALTH CARE SYSTEM ENHANCEMENTS, AND ECONOMIC STABILIZATION
This part contains most of the stuff you really care about because it might impact you directly.
DIVISION B – EMERGENCY APPROPRIATIONS FOR CORONAVIRUS HEALTH RESPONSE AND AGENCY OPERATIONS
This part contains most of the stuff you don't care about but should, because it impacts you indirectly. More accurately, it impacts your children and grandchildren, who will pay for it.
In general, Division A promises direct payouts to individual citizens and businesses while Division B allocates money to governmental programs and other organizations. Some of the funding might surprise you. You might even wonder how some of it relates to the coronavirus. In some cases, it simply does not.
You be the judge.
My outline below follows the Act in the order it unfolds, with source page numbers denoted.
DIVISION A – KEEPING WORKERS PAID AND EMPLOYED, HEALTH CARE SYSTEM ENHANCEMENTS, AND ECONOMIC STABILIZATION
Business Loans (page 9)
Average monthly salary for U.S. employees and contractors times 2.5… excluding employees who earn more than $100,000 per year
No personal guarantee
No collateral
No origination fees
4% max rate
No payments for 6 months (maybe up to 12)
No prepayment penalty
Max loan = $1 million
To qualify, you only need to have a decrease in receipts or customers
Loan forgiveness for any expenses for payroll
Exemption for re-hires (from Feb.15 – April 24)
Loan Forgiveness (page 41)
Debt forgiveness for business expenses related to: payroll costs, mortgage interest, rent, utilities
Reduction in loan forgiveness prorated with any reduction in average number of full-time employees or reductions in employee average salaries
Individuals (page 144)
$1,200 per adult + $500 per child tax credit
Starts to taper off at $150,000 if filing jointly ($75,000 individually)
Retirement Funds (page 157)
Take up to $100k out of retirement funds without penalty for Covid-19 expenses.
No minimum required distribution from a retirement plan for 2020
Stockpiling Health Supplies (page 217)
Respirators & pharmaceuticals
Pharma companies required to develop a risk mitigation plan for drug manufacturing and ingredient sourcing (annually)
Coverage of Diagnostic Testing for Covid-19 (page 233)
Health insurance required to cover "any qualifying coronavirus preventive service"
Health Care Providers – $1.32 billion (page 236)
For the "detection of SARS-CoV-2 or the prevention, diagnosis, and treatment of COVID-19"
Suspension of Interest on Student Loans (page 333)
For the period of emergency
Limitation on Paid Leave
Employer not required to pay more than $200 per day ($10,000 max) for paid leave
Limitation on Paid Sick Leave
$511 per day ($5,110 total)
Review of Non-Prescription Sunscreen Active Ingredients (page 470)
Loans to Eligible Businesses – $500 Billion (to provide liquidity)
$25 billion in loans to passenger air carriers
$4 billion to air cargo carriers
$3 billion to air carrier contractors
$17 billion for businesses critical to national security
$454 billion to provide liquidity to the financial system that supports lending to businesses, states and municipalities (page 512)

Only allowed if the government receives a senior debt, warrant or equity position

No loan forgiveness allowed for these loans

Limitations on compensation for employees who make more than $425,000 (for companies receiving loans) and to employees who make $3 million+ (new compensation capped at 1.5x 2019 compensation)

Community bank leverage ratio relaxed to 8%
Multifamily Residential Owners – forbearance for loan payments (30 – 90 days forbearance of loan payments)
Temporary moratorium on eviction filings for 120 days (page 575)
Coronavirus Relief Fund
$150 billion total

$3 billion for districts (DC, Puerto Rico, Virgin Islands, Guam, Mariana Islands, American Samoa)

$8 billion to tribal governments

The remainder gets distributed to all 50 states, prorated based on population… with a minimum of $1.25 billion per state.

Funds must be used for COVID-19 expenses

$35 million allocated for oversight
Borrowing Facility for U.S. Postal Service (page 607)
DIVISION B—EMERGENCY APPROPRIATIONS FOR CORONAVIRUS HEALTH RESPONSE AND AGENCY OPERATIONS
Coronavirus Health Response (page 609)
$9.5 billion specifically for agricultural producers, farmers markets, restaurants, schools, livestock producers and dairy producers
Miscellaneous Funds to the Justice Department (page 624)
Some smaller amounts, ranging from $2 – $15 million each to: US Attorneys office, US Marshall Service, FBI, Drug Enforcement Administration
Federal Prison System – $100 million
State and local law enforcement – $850 million
NASA – $60 million
National Science Foundation – $75 million
Legal Services Corporation – $50 million
National Guard (page 640)
Army – $746 million
Air Force – $482 million
Army Operation & Maintenance – $160 million
Navy Operation & Maintenance – $360 million
Marines – $90 million
Air Force Operation & Maintenance – $155 million
Army Reserves – $48 million
Army National Guard – $187 million
Air National Guard – $75 million
Defense-Wide – $827 million
Defense purchases – $1 billion
Defense working capital – $1.45 billion
Defense Health Program – $3.8 billion
Office of Inspector General – $20 million
Corps of Engineers (page 652)
Department of the Interior (page 653)
Department of Energy (page 654)
"Science" – $100 million
Departmental Administration – $28 million
Nuclear Regulatory Commission – $3 million
Department of the Treasury (page 659)
Internal Revenue Service – $250 million
Supreme Court – $500,000 (for additional salaries and expenses)
Court of Appeals, District Courts, other – $6 million
Defender services – $1 million
District of Columbia "Emergency planning and security costs" – $5 million
Election security grants – $400 million
FCC – $200 million
Federal Building Fund – $275 million
Federal Citizen Services Fund – $18 million
Working Capital Fund – $1.5 million
National Archives – $8 million
Office of Personnel Management – $12 million
Pandemic Response Accountability Committee – $80 million
SBA Disaster Loans Program Account – $562 million
Provision for public oversight of these Coronavirus funds. "not later than 30 days… the Committee shall establish and maintain a user-friendly, public-facing website to foster greater accountability and transparency in the use of covered funds and the Coronavirus response, which shall have a [URL] that is descriptive and memorable. (Page 690) [Andy's Note: it will be interesting to see if this actually happens].
Department of Homeland Security (page 689)
Operations and Support – $178 million
Transportation Security Administration – $100 million
Coast Guard – $141 million
Cybersecurity – $9 million
Federal Emergency Management – $45 million
Disaster Relief Fund – $45 billion
Federal Assistance (Firefighters, Emergency Food and Shelter) – $400 million
Department of the Interior (page 709)
Bureau of Indian Affairs – $453 million
Bureau of Indian Education – $69 million
Departmental Operations – $158 million
Insular Affairs (Assistance to territories) – $55 million
Environmental Protection Agency (science and technology) – $2 million
Environmental Programs & Management – $4 million
Buildings and Facilities – $300,000
Hazardous Substance Superfund – $770,000
Department of Agricultural (page 715)
Forest and rangeland research – $3 million
National Forest System – $34 million
Wildlife Fire Management – $7 million
Department of Health and Human Services (page 718)
Indian Health Services – $1 billion
Agency for Toxic Substances and Disease Registry – $12 million
Institute of American Indian and Alaska Native Culture and Arts Development – $78,000
Smithsonian Institute (salaries and expenses) – $7 million
JFK Center for the Performing Arts – $25 million
National Foundation for the Arts – $75 million
National Endowment for the Humanities – $75 million
Department of Labor (page 726)
Training and Employment Services – $345 million
Department of Management – $15 million
Department of Health and Human Services (page 728)
Center for Disease Control – $4.3 billion
National Institute of Health – $103 million
National Institute of Allergy and Infectious Diseases – $706 million
National Institute of Biomedical Imaging and Bioengineering – $60 million
National Library of Medicine – $10 million
National Center for Advancing Translational Sciences – $36 million
Office of the Director – $30 million
Substance Abuse and Mental Health Services – $425 million
Center for Medicaid and Medicare Services – $200 million
Administration for Children and Families (Low Income Home Energy Assistance) – $900 million
Payment to States for Childcare – $3.5 billion
Children and Family Services Programs – $1.9 billion
Administration for Community Living (Aging and Disability Services) – $955 million
Office of the Secretary (page 743)
Public Health and Social Services Fund – $27 billion
Department of Education (page 752)
Education Stabilization Fund – $30.7 billion
Safe Schools and Citizenship Education – $100 million
Gallaudet University (this is a university in DC for the deaf and hard-of-hearing) – $7 million
Student Aid Administration – $40 million
Howard University (Washington DC) – $13 million
Departmental Management – $8 million
Office of the Inspector General – $7 million
Corporation for Public Broadcasting – $75 million
Institute of Museum and Library Services – $50 million
Railroad Retirement Board – $5 million
Social Security Administration (administrative expenses) – $300 million
Legislative Branch – Senate (page 780)
Sergeant of Arms and Doorkeeper of the Senate – $1 million
Miscellaneous Items – $9 million
House or Representatives (page 781)
Salaries and Expenses – $25 million (note that $5 million of this is expressly set aside for coronavirus related salary expenses).
Joint Items (page 781)
Office of the Attending Physician – $400,000
Capitol Police (salaries) – $12 million
Capitol Construction and Operations (for purchase of cleaning and sanitization products) – $25 million
Library of Congress (Salaries and Expenses) – $700,000
Government Accountability Office (Salaries and Expenses) – $20 million
Department of Veterans Affairs (page 798)
Operating expenses – $13 million
Veterans Health Administration (Medical Services) – $14.4 billion
Medical Community Care – $2.1 billion
Medical Support and Compliance – $100 million
Medical Facilities – $606 million
Department Administration – $6 million
Information Technology Systems – $2.15 billion
Office of the Inspector General – $13 million
Facilities – $150 million
Related Agencies (page 802)
Armed Forces Retirement Home Trust Fund – $2.8 million
Department of State (page 816)
Diplomatic Programs – $324 million
U.S. Agency for International Development (page 816)
Funds for the President Operating Expenses – $95 million
Bilateral Economic Assistance (page 817)
International Disaster Assistance – $258 million
Migration and Refugee Assistance – $350 million
Peace Corps – $88 million
Department of Transportation (page 831)
Salaries and Expenses – $1.7 million
Essential Air Service (in addition to "Payments to Air Carriers") – $56 million
Federal Aviation Administration (grants-in-aid for airports) – $10 billion
Federal Railroad Administration (safety and operations) – $250,000
National Railroad Passenger Corporation – $492 million + $526 million
Federal Transit Administration (infrastructure) – $25 billion
Maritime Administration (operations and training) – $3 million
State Maritime Academy – $1 million
Office of Inspector General – $5 million
Department of Housing and Urban Development (page 843)
Administrative Support Offices – $35 million
Program Offices – $15 million
Public and Indian Housing (tenant-based rental assistance) – $1.25 billion
Public Housing Operating Fund – $685 million
Native American Programs – $300 million
Housing Opportunities for Persons with Aids – $65 million
Community Development Fund – $5 billion
Homeless Assistance Grants – $4 billion
Project-Based Rental Assistance – $1 billion
Housing for the Elderly – $50 million
Housing for Persons with Disabilities – $15 million
Fair Housing Activities – $2.5 million
Office of the Inspector General – $5 million
NOTE: this is a review of the Senate Bill. It appears the final signed law accepted all these items without change… although the final law does contain some additional funding not itemized here.
So, what do you think? Comment below.
Interested in financial and economic topics?… see my economic theory I wrote in November 2019. The world unfolded a little too close to the script. Or, you could just read about how I got lost in Ukraine.
P.S. Follow Past Midway if you would like an email notification of new posts.
---
FOOTNOTES: