This is the second installment in a four-post series.1
In my last post, I introduced the three component parts of fun:
Part 1 – Anticipating the fun
Part 2 – Doing the fun
Part 3 – Remembering & Reminiscing about the fun
…and promised next a discussion about The Totality of Fun, which follows, with numerous digressions (and regressions) along the way. In other words, this one is a bit bumpy. See if you can follow my thought-thread even though I detour frequently.
The Totality of Fun (Tf)
When something is fun, it has both a Magnitude (Mf) and a Duration (Df). The combination of these two variables provides a proxy for the total fun for a specific event. The Totality of Fun (Tf) is therefore the total area from each blip of fun attributed to this one event, illustrated in the graph below, which depicts a single fun event as it manifests itself over a lifetime.2
In the graph, I have color-coded fun into its three component parts.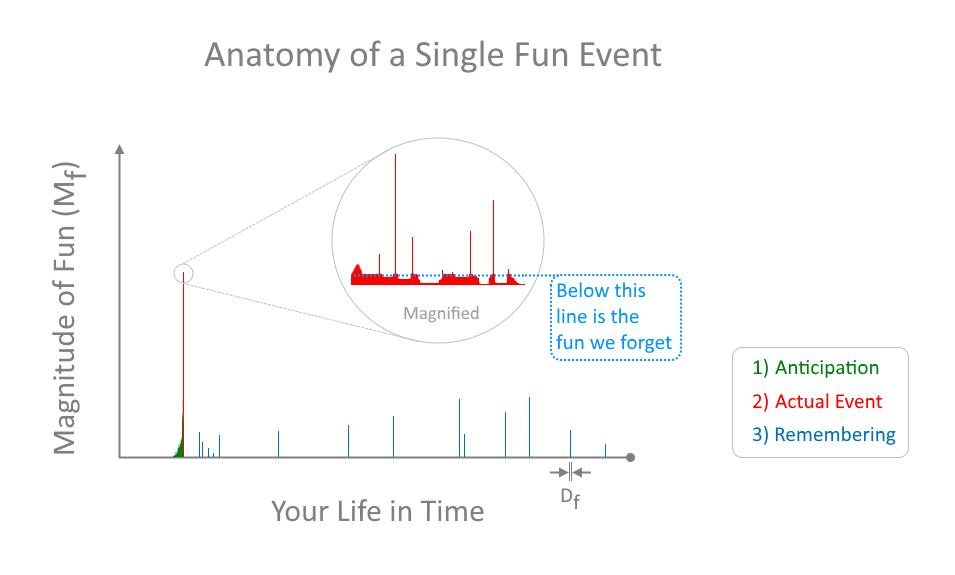 What follows is a more detailed discussion of each component part of fun – out of order, beginning with Part 2 Fun. That's this post. My next post will elaborate on Part 1 and Part 3 fun (so The Totality of Fun concept is broken into two posts).
Part 2 Fun
The tall red spike is the Part 2 Fun for this hypothetical event – doing the fun thing in the moment.
Plotted over the scale of an entire life, this fun event looks like a single tall spike, but magnified, the event may have multiple highlights and smaller peak-fun moments within it. This might represent a fun event much like my previously mentioned band trip. However, Part 2 Fun might also be a single short instance – high Magnitude (Mf), short Duration (Df).
Drawing that red line caused me to pause and to consider what fun moments this might represent in my own life. In doing so, I realized I have been fortunate in that I have had a lot of fun thus far, although I'm uncertain as to why. In replaying and reviewing these times from memory, some events naturally rise to the top. A top 10 list of sorts. But one moment stands out above all the others. It's such an outlier, that it would need its own category. I'm thinking of a single moment in time where I have never laughed better, felt more comfortable nor experienced more joy.
My Most Fun Moment – A Short Detour for a Personal Story
The first time I was hanging out with Ann-Sofie Lundin, we ended the evening playing ping-pong upstairs at my parents' house in Houston. At one point, I tried to slam the ball to score, but the ball missed the table completely and instead, hit Sofie squarely on the forehead, making a crisp "thap!" sound. Fortunately, she laughed. Then, making eye contact, we both laughed, contagiously… so hard we doubled over. And in that moment, I began to fall in love.
Curiously, the most fun moment of my life also instigated the most sensitive, gut-wrenching, weighty time of loneliness for me as well.3 And ultimately took me on a longer journey of joy, contentment and gratitude.
---
An Aside, off the Detour
This story4 is well beyond the scope of this post – some of the bumpy part – but I thought I should give more color to the last paragraph.
In short, only weeks after we met, I was back in Tulsa finishing my last year of undergraduate studies (while Sofie remained in Houston). Four months later, Sofie moved back home to Sweden, as dictated by her visa. This left us with a season of relational ambiguity. Where might this relationship go, given the literal ocean between us? Would this budding relationship succumb to the natural forces of time and distance that slowly pry people apart, or might we carefully nurture deeper taproots from our burgeoning seedling of a relationship, despite the obstacles of distance, culture and language? This is when I learned…
Love with uncertainty of outcome is painful.
…the degree of pain being directly proportional to the magnitude of love.
The emotional weightiness arises from the mind's war-gaming, playing out potential scenarios, one of which is an end-game where the relationship simply ends. This null scenario is what adds gravity to the mass of the relationship.
To this day, my worst occasionally-recurring nightmare places me back in time to a younger self, to learn that Sofie has regrettably decided not to marry me. Given the enormity of the decision, I trust that she has fully thought it out. I completely understand her position and simply resign to the fate of letting her go.5
In this dream, all the potential beauty I have somehow already experienced cannot will itself into existence to become the reality I know now as my life. I cry in this dream. Every time. Mourning the disparity between the knowledge of what-could-have-been and what-might-now-be.
I'm equally relieved when I awaken to find that she did choose me, and we are still whole. In an instant, the solid foundation of my actual past swoops under me again and steadies my emotional footing. This dream serves to remind me of the depth of my love for her.
All that to say, there was a season of not knowing if marriage would be the eventual outcome. Such binary scenarios. One representing Order. The other Chaos. As we often do when things are difficult, I grew through this season of emergent uncertainty that risked rendering life too tragic too early.
But alas, she did marry me (nearly 25 years ago), and it has been the most wonderful part of my life. This, I'm sure, serves to enhance the fun-ness of our ping-pong moment, in retrospect… even though it was extremely fun at the time, there's likely some Part 3 fun influencing my memory of this event.
End Aside – back to the Detour
---
Your Most Fun Moment – Detour Continued
I wonder if you also have a "most fun" moment or perhaps a handful of times that constitute your top 10 list? Pause a moment to think about the most fun events across your life. I'll wait…
If you're like me, you didn't stop to think about this. You just kept reading. Fair enough.
But if you pondered it, you likely had brief memories flash before you. For younger readers, it's like swiping right on your iPad through a seemingly endless stream of picture memories. For readers my age, it's more like rummaging through the small drawers of the card catalog index at the library. Pull out a random drawer and thumb through places and faces, Dewey-decimal style.6 In either case, some memories probably surfaced that were completely unrelated to "fun" as you flipped through your mental memory index.
You also might be surprised how difficult it is to think of many fun events by simply asking yourself "What has been fun?". Fun memories somehow need to be jostled lose, teased out by association. That is, I don't think we necessarily have a "fun" category by which we index our memory-base. Instead, we index by event type. Fun-memory jostling requires a prompt. Like if I say "Hiking",7 you may recall some excursions, some were even fun, but you might not have considered this event without the prompt. I might have suggested camping, a road trip, a pool-party or even a classroom. Each of these prompts might surface a memory for which you have a fun story, now recalled with ease.
If you settled on a few top fun memories, why these? Was it more related to what you were doing or who you were with?
*** End Detour ***
Back to the Graph and Discussing Part 2 Fun…
The magnified section on the graph shows the fun event, with the time-axis stretched to better illustrate the real-time ebb and flow of fun within the event itself. For this example, the magnified area shows six really fun things that happened over the course of this one fun event, during the Part 2 Fun. The rest of the event was only moderately fun, but soon forgotten because it wasn't "stand-out" fun.
Part 2 Fun can be super-fun, relative to the average existence surrounding it, so the magnitude Mf is really high for this red spike, but it's short-lived… because we can't just go around in a constant state of ultimate fun. Partly because it might lead to financial peril, partly because we can't just run around falling in love all the time8 and partly because it would, paradoxically, cease to be fun. An event must sufficiently differentiate itself from its surroundings to be fun. In other words,
If everything is fun, nothing is fun.
So, it would seem that fun is relative in three ways:
1) In time, compared to surrounding events immediately before and shortly thereafter;
We record Fun in our mental highlight reel if it is sufficiently contrasted to the events surrounding it. Specifically, we compare potential fun things to everything that has come before and maybe to a few things that come immediately after.9
2) By comparison to our perception of the fun others are having around us10
This explains a certain element of social anxiety some people feel when they are bombarded with a steady stream of Part 2 peak-fun via social media. This barrage of Part 2 Fun allows us to see the highlight reel of all our social connections nearly simultaneously. In a sense, this is the master highlight reel of our entire social circle, mastered from the best individual highlight reels of friends and acquaintances.
If we are in a comparative mindset, it can be disconcerting to see everyone else having such fun, relative to the view we might have of our own lives at that moment.11 It is here where young people especially must remind themselves that perception is not reality, especially on social media.12

3) To our expectations of anticipated fun.
Strangely, Part 2 Fun can be different from what we expected to happen and even different from what we remember happening.13 Some events turn out to be more fun than expected. They surprise us on the upside. For some reason, an upside surprise is usually perceived as enjoyable. Meanwhile, other events leave us disappointed because they fell short of our higher expectations.14
In all cases,
fun is a comparative experience that only seems to manifest itself in contrasts.
Compared to recent events. Compared to how we view the lives of others. Compared to our expectations.15
Not everything needs to be fun, nor should it be. Some of my greatest, most treasured memories were not fun at all. In fact, some of my most profound memories are heartbreaking and tragic. That said, Fun is the specific lens through which I am developing the discussion with this series. It could have just as easily been loneliness or sadness or intimacy. Those would have been more introspective discussions, but less fun (except maybe the last one).16 Besides, I was originally contemplating the notion of Fun in particular and how it relates to Alzheimer's. That part coming in my next post.
Today was about Part 2 Fun (at least it was supposed to be, but the other ramblings might have obscured this point). So, to recap, Part 2 Fun is all about the enjoyment we experience in the moment of a specific fun event. Part 2 Fun is often high in Magnitude but short in Duration. Because the Duration is brief (and it must be or the Fun ceases), the area under the curve of Part 2 Fun is minimal, constrained by time. Part 2 Fun's contribution to the Totality of Fun is therefore perhaps less than expected.
My next post will discuss of Part 1 and Part 3 Fun. To be continued…
P.S. Follow Past Midway if you would like an email notification of new posts.
---
FOOTNOTES: